Posts for: October, 2017
By Dedicated Dental Solutions
October 25, 2017
The American Dental Hygiene Association has designated October as National Dental Hygiene Month. Good dental hygiene is the best weapon against your mouth's number one enemy: dental plaque.
Plaque, a sticky biofilm that forms on your teeth, is an accumulation of bacteria, other microorganisms, food debris, and other unpleasant components. It can make your teeth feel fuzzy or slimy. And worse, the bacteria in plaque can lead to tooth decay and gum disease.
The best way to keep plaque at bay is by brushing your teeth twice a day and flossing once a day. But even though you can remove much of the plaque in your mouth with a toothbrush and dental floss, there are nooks and crannies that are hard to access with these basic oral hygiene tools.
Staying on top of dental plaque is an ongoing challenge. Immediately after teeth are cleaned, plaque starts to form again. And the longer plaque stays on teeth, the thicker it grows. Minerals in saliva become incorporated into the biofilm. As plaque takes on more minerals, it becomes calcified. This is when it hardens into calculus, or tartar. At this stage, tooth-brushing and flossing cannot disrupt the hardened layer of buildup, sometimes visible as yellow or brown deposits around the gum line.
This is why it's important to schedule regular professional dental cleanings. At the dental office, we have special tools to remove tartar and get at those hard-to-reach places that your toothbrush and floss may have missed. If you have questions about dental hygiene, plaque control or another oral health issue, we are happy to talk with you. We are your partners in fighting plaque for a bright, healthy smile!
Read more about the topic in the Dear Doctor magazine article "Plaque Disclosing Agents."
By Dedicated Dental Solutions
October 10, 2017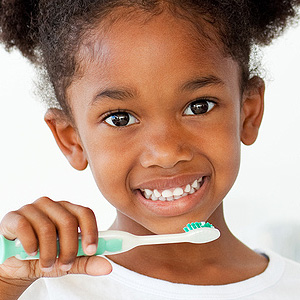 October is National Dental Hygiene Month. It's a great time to talk about your first line of dental defense: your toothbrush.
Are you getting the most out of your tooth-brushing routine at home? Your toothbrush is the primary tool to maintain oral health on a daily basis, so here are some tips to keep in mind:
Brush gently twice a day, every day, for two minutes each time using a soft toothbrush. Scrubbing with too much force or with hard bristles can damage gums and tooth enamel.
Use fluoride toothpaste to prevent tooth decay. Fluoride is a mineral that builds tooth enamel to prevent tooth decay.
Replace your toothbrush every 3 to 4 months or when the bristles start to look frayed, curled, or worn.
Rinse out your mouth thoroughly after brushing to get rid of bacteria and food debris that you worked loose from your teeth.
Also rinse your toothbrush well after each use to wash away the debris and bacteria you just brushed from your teeth.
Let your toothbrush dry out between uses. A toothbrush that is stored in a closed container can become a breeding ground for bacteria.
Keep your toothbrush to yourself. Sharing toothbrushes is a way to share disease-causing germs as well.
Follow these pointers and come in for regular dental visits to help ensure healthy teeth and a bright smile. If you have any questions about your dental hygiene routine, be sure to ask us.
To learn more, read these informative articles in Dear Doctor magazine: "Manual vs. Powered Toothbrushes" and "10 Tips For Daily Oral Care at Home."